Welcome to the Humane Society of Alamance County!

​​OUR MISSION STATEMENT:

The Humane Society of Alamance County in a non-profit, animal welfare organization whose mission is to partner with our community to educate and encourage compassionate citizenship, thereby enriching the lives of companion animals and promoting responsible pet ownership through services designed to reduce pet overpopulation and increase pet retention and rehoming efforts.

Our vision is to transform how our community cares for companion pets through adoption, spay-neuter and humane education, resulting in responsible ownership where animals do not suffer because of human abuse, neglect or ignorance.
Low Cost Spay & Neuter Program




The Humane Society of Alamance County
has offered its low-cost spay and neuter program to local residents for more than two decades. HSAC operates independently with the support of generous contributors and volunteers. HSAC facilitates spay and neuter surgeries through partnerships with the majority of Alamance County's veterinarians and veterinary hospitals.
To learn more about our spay and neuter program,
click here
!
​
​
*In honor of our Military Veterans and Active Duty Personnel, the HSAC is proud to offer a 50% discount on our spay/neuter packages. In order to qualify for this discount, Active Duty Personnel will need to show their Common Access Card (CAC) or Uniformed Services ID Card. Veterans will need to show their DD-214 (must reflect character of service as honorable or under honorable conditions), Uniformed Services ID Card, Veteran Health Identification Card (VHIC) or Veteran Identification Card (VIC).
*Discount also applies to National Guard and Reservists.
---
---

Foster & Rescue
​
Since 2001,
we have been able to rescue homeless or abused dogs and cats. The numbers of animals we save depends on the funds we have available to cover the cost of rescue, as well as volunteers willing to act as foster parents until permanent homes can be found. We are very fortunate to house some of our foster cats and kittens in the condos at the
Petsmart Adoption Center
located on University Drive in Burlington.
Want to become a foster, volunteer or both?
Click here
!
---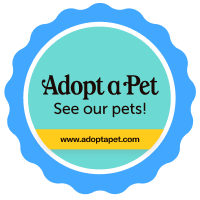 ---
Owner Medical Assist
We were chosen, for the second consecutive year, as a Banfield Charitable Trust grant recipient for our Veterinary Assistance Program, Emily's Fund. This year, we were awarded the full amount of $10,000 to assist families with unexpected vet bills due to illness or accident. Our $8,000 grant last year helped 31 families. This year, we hope to assist even more families in a time of need!

​To apply for aid, please call or visit our office.
---
Humane Education


Education is a key HSAC effort
. We strive to increase public awareness of pet owners' responsibilities through our
Companion Quarterly
newsletter, Quick Bark email updates, our social media pages, and information booths at public events. We also offer a slideshow presentation about HSAC that we offer to
civic groups
. Finally, volunteer Humane Educators conduct programs for
schools, churches, and scout and other children's groups,
teaching young people about responsible pet care.
To schedule a Humane Education event for your civic group or children's group, call
336-438-2023 or e-mail hsacinfo@gmail.com.
---
---
"No More Empty Bowls"
Food Pantry


Do you love and care for your pet but, lately, it's been tough to afford their food? Well, we're here to help!
"No More Empty Bowls" is our initiative to help keep pets and families together, even through tough times.

We require that all pets receiving food be spayed or neutered and have a current rabies vaccination to continue benefiting from our program. If your pet is not fixed and you need food, please contact us! We will help you get the surgery AND the much needed food.

No one should have to struggle to keep their pets fed. Please know that everyone needs help sometimes and, in that spirit, we want people to feel good when they contact us for help.
APPLY AT THE OFFICE. PICK UP DAYS ARE THE 1ST & 3RD FRIDAYS OF THE MONTH.
"NO MORE EMPTY BOWLS" SUPPORTERS:
Amber's House of Dance
Great Clips
Girl Scout Troop 02227, Liberty, NC
Farm Services, Inc
Hillcrest Elementary School
Tony Carter and his clients at
D.R.I.V.E.
Fitness
Inferno-Ink Custom-Tattoo
Buster's Poker League, Monday and Tuesday night
​St. Paul Lutheran Church
Knights at Blessed Sacrament School
​Doggy do's
Bell Letters Book Club
UFPI
Carolina Ramblers
​Burlington Womans Club
---
Amber's House of Dance donated over 1,300 lbs of food to HSAC at their Spring Event!
​
HSAC | PO Box 5117 Burlington, NC 27216 | 336- 438- 2023 (tel) | 336- 438- 2029 (fax) | ​hsacinfo@gmail.com